About Us
Welcome to Fun4OcalaKids.com! We are the #1 family resource for all the fun places to go and things to do with kids in Ocala and Marion County. Fun 4 Ocala Kids is a FREE online resource for families that provides over 2,000 family friendly events and activities in Ocala and around Marion County. Let us help you Find-Go-Do!
Ocala has SO much to offer for families, but much of it is not advertised and hard to find. That's where Fun 4 Ocala Kids come in. Our team has done all the research for you and put it all in one place, saving you time so you can spend time with your family exploring your community! Our mission is to connect local business to families by providing a website that lists all the family friendly programs/classes, services and events in and around Marion County. Our goal is have the best family directory and calendar website in Marion County.
You can follow us on Facebook, Instagram and/or Twitter to stay informed about all the family friendly events and kid programs happening in and around Marion County. Sign up for our weekly newsletter to find out about our top picks for the week and to enter our monthly giveaways.
Meet Our Team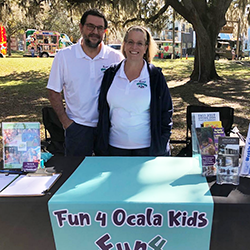 Kristina and J Wadsworth, Owners
We are the new owners (as of January 1, 2020) of Fun 4 Ocala Kids. We are so excited to continue Fun 4 Ocala Kids and to expand the business. We look forward to helping local businesses connect with families in the community and provide affordable advertising to promote their business and events.
We love meeting new moms, dads, and grandparents in our community. It is our goal to help families find places to go and things to do with their kids in Marion County. Be sure to look for our booth at local events and stop by to say Hi!
We LOVE hearing from you! If you have any feedback, comments, suggestions, questions or want information about advertising on Fun4OcalaKids.com This email address is being protected from spambots. You need JavaScript enabled to view it.!
Jennifer Hallermeier, Content Manager and Social Media Publisher
Jennifer joined Fun 4 Ocala Kids in February 2022. She was born and raised in Ocala, a true Ocala native. She has 4 kids and enjoys exploring Marion County with her family. She loves traveling and going on mission trips. She works hard each week to keep the website up to date and comprehensive. She spends each week searching the internet for events to add to our calendar. We average over 200 events on our calendar at any given time. In addition, she works on verifying and updating listings in our directory every week. We have over 2,000 listings in our directory. She posts daily on the @Fun4OcalaKids Facebook page to let you know about things to do with kids in our community.
If you know a local business or program in Marion County, add a business or program to our directory.
If you know about a great activity or event in Marion County, add an event or activity to our calendar.
For information about paid advertising on Fun4OcalaKids.com see our Advertising page.
Fun 4 Ocala Kids is part of the growing network of Fun 4 US Kids websites. To learn more about Fun 4 US Kids or to find more websites like Fun 4 Ocala Kids visit fun4uskids.com